InkEstimator is a powerful resource for your NeuraLabel 300x printer. InkEstimator calculates ink requirements of any label, regardless of shape or size. With this simple application, you can easily determine ink costs for all your label jobs. Furthermore, you don't even have to print to get your answers. InkEstimator can be used at any time - before, during or after printing.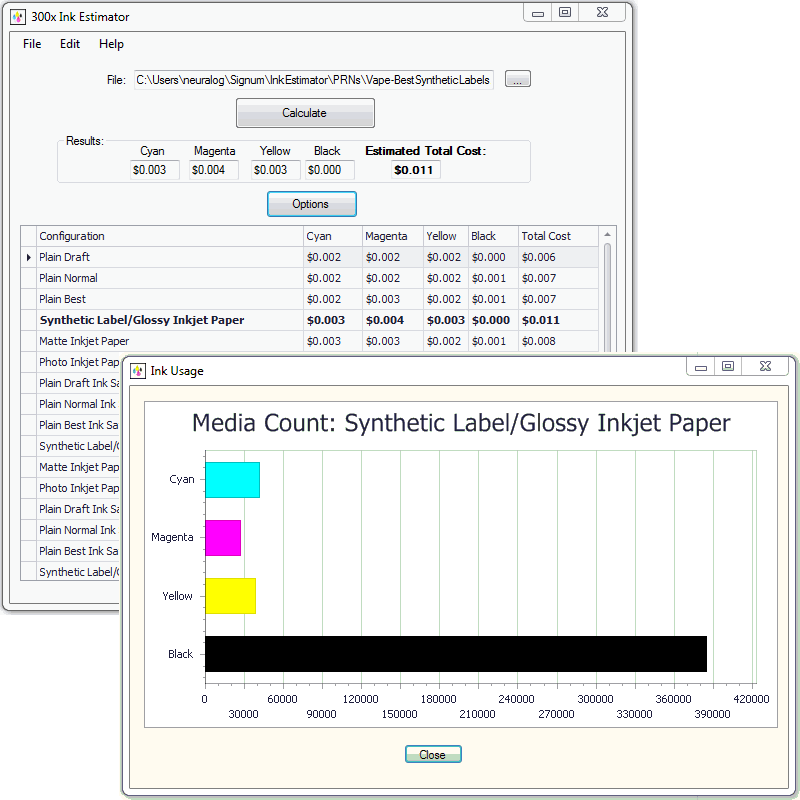 To use InkEstimator, simply create a "PRN" file of your label with the 300x printer driver. Load this file into InkEstimator, enter the amount you pay for Ink, and instantly see your ink costs per label. InkEstimator eliminates the guesswork and puts you in control of your labels.
InkEstimator gives you options, not only providing instant information about the current label settings, but providing over 15 "What If" scenarios that allow you to see how changes in driver parameters affect label costs. IE works with driver features like Ink Saver and Media Setting to give you choices that can meet a particular budget. A friendly easy-to-read graph makes understanding your data a cinch. Download InkEstimator and start saving today.
InkEstimator Version 1.0.58 Details
| | |
| --- | --- |
| Cost | FREE with your 300x printer purchase |
| Unlimited Use | YES |
| Individual CMYK and Total Ink Costs | YES |
| Individual CMYK and Total Ink Costs | YES |
| More Ink Usage Options | YES |
| Custom Cost Sorting and Filters | YES |
| Graphical Interface | YES |
How Does InkEstimator Work?
InkEstimator uses proprietary ink usage libraries built specifically for the 300x printer. These algorithms are able to count approximate ink droplets that would be used to print any label with the specified driver configuration. IE algorithms are based on the ISO-IEC 24712 standard pdf document, as published by the International Organization for Standardization (iso.org). IE has been certified against this standard document and verified with real use cases in our Print Research Lab.
How Accurate is InkEstimator?
While InkEstimator values are only estimates, InkEstimator is very accurate. Individual results can vary due to many factors such as label size, ink usage, and even temperature, therefore it is not possible to guarantee a specific degree of accuracy for all cases and scenarios of real use. Batch size can also affect the overall accuracy of your results. The goal of InkEstimator is to provide cost estimates within about 10% of the actual ink costs. Values shown may be greater or lower than actual ink costs. If you are using InkEstimator with your 300x printer and do not see desired results, contact Neuralog support.
How do I get InkEstimator?
InkEstimator is NOW AVAILABLE with the latest 300x firmware update. If you are a 300x client, download it here.