NeuraLabel NoTouch™ Unwinder/Rewinder
Media-Sensing Unwinder/Rewinder Unit
Simple to set up and use
Works over a wide range of print speeds
Works with roll widths from 1.5 inches to 8.5 inches
Creates nice tight rolls of labels
Incorporates state of the art media sensing technologies
Integrates with the NeuraLabel 300x label printer or can be configured to work with other production label printers
See NeuraLabel Printers
Request Information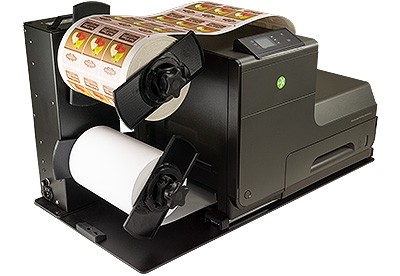 See the NoTouch™ Unwinder/Rewinder Set Up Instructions.
The NeuraLabel NoTouch™ Unwinder/Rewinder System (NoTouch™ UR) incorporates state-of-the-art media sensing technologies that allow for a simple unwinder/rewinder unit. With an exceptionally small footprint, the unit is easy to move, set up, and use.

The NeuraLabel NoTouch™ UR uses optical sensors that monitor media movement for both unwinding and rewinding systems. Programmable sensors monitor data and use control algorithms to determine the appropriate media speed for both input and output rollers. Powerful geared stepper motors move the unwinder and rewinder hubs at the appropriate speeds based on input from the control module. The result is a smooth unwinder/rewinder system that gracefully handles your rolled media throughout the entire printing process.

The NeuraLabel NoTouch™ UR integrates readily with the NeuraLabel 300x label printer or can be configured to work with other production label printers. Contact NeuraLabel Printing Solutions (sales@neuralabel.com) for more information.
Product Brochure
Product Quick Start Guide
NeuraLabel NoTouch Unwinder/Rewinder Specifications*
Media Width
1.5″ to 8.5″
Roll Diameter
Up to 8″ diameter
Power Supply
Built-in Universal, 110V or 220V
Media Speed
Up to 20 ips (inches per second)
Upgrades
Field Upgradable
State of the Art Sensors (No "dancer arm" necessary)
Warranty
1 Year Return to Depot, Platinum On-site Service Available
*Specifications subject to change.